Welcome to the home of the DICE Project
DICE is a national strategic educational project implemented by the four partner institutions responsible for initial teacher education at primary level.
Aim
Our aim is to integrate development and intercultural education into primary level Initial Teacher Education and develop and extend staff capacity and expertise.
Making a difference
Student teachers are equipped with the knowledge, skills, values, ideas and capacities necessary to integrate development and intercultural education across the primary school curriculum.
The DICE project is a national education initiative, which promotes the integration of development education and intercultural education in Initial Teacher Education at primary level in Ireland.
DICE works to support teachers educators and student teachers of the four partner institutions to integrate global and intercultural perspectives and themes into their teaching practice. 
By targeting the skills, knowledge and values of people involved in education, DICE seeks to promote global solidarity, human rights and sustainable development, and support people to recognise and challenge discrimination, inequality, locally and globally.
The DICE Project integrates development and intercultural education into primary level Initial Teacher Education programmes in four partner institutions.
Development and Intercultural Education supports the exploration of global issues enabling us all to learn about our shared global reality 
A collaborative education project between Marino Institute of Education  Maynooth University, Dublin City University and Mary Immaculate College 
Check here for details of books, websites, organisations, videos and materials that can be useful when integrating DE/ICE in classrooms
Stories and reviews with a Development and Intercultural Education perspective, Links to Upcoming Events. 
Students and Teachers from the Froebel Department of Primary and Early Childhood Education at Maynooth University explain what DICE (Development & Intercultural Education) means and how it is taught.
This gives a good overview on what impact DICE has on students and also how principles and values of intercultural education are brought into classrooms.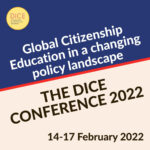 In an ever-evolving environment, the DICE Conference will take place from 14 – 17th February 2022.The programme includes a number of guest speakers, teacher educators
Read More »
The 2022 Our World Irish Aid Award theme 'Wellbeing for People and Planet', invites primary teachers and pupils to learn about the work of Irish
Read More »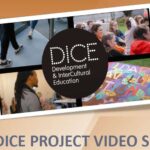 The "DICE Project Video Series" is a collection of 32 short videos introducing a variety of topics and experiencesof Global Citizenship Education at primary level.
Read More »